2018-19 group includes members from University Park, Great Valley and Lehigh Valley campuses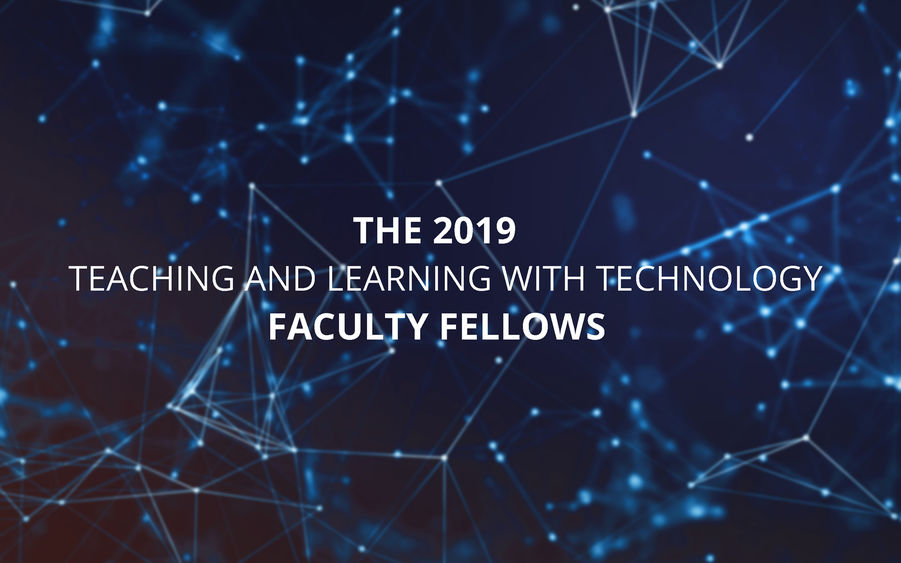 UNIVERSITY PARK, Pa. — Teaching and Learning with Technology at Penn State has named its four TLT Faculty Fellows for the 2018-19 academic year — David Hunter, Kathryn W. Jablokow, Karen Kackley-Dutt, and Alan Wagner.
"We have a sensational group of Faculty Fellows this year," said Kyle Bowen, director of innovation with TLT. "They are exceptional scholars in their respective disciplines, and their innovative ideas have the power to create positive change at Penn State and beyond. Our staff is eager to support their projects and help bring them to life."
This year the TLT Faculty Fellows were chosen from dozens of applicants. Each fellow will work for one year with a dedicated team of TLT staff in order to realize the goals set forth by each of their projects. The undertakings by this year's fellows include topics covering data science, digital fluency, immersive experiences, and robotics.
David Hunter — Data Science
A professor of statistics in the Eberly College of Science at University Park, Hunter aims to mobilize a data science community encompassing all of Penn State.
"Data science has developed into a discipline that influences nearly all modern academic fields," Hunter said. "Despite its pervasive reach at Penn State, we are lacking a cohesive presence that can bring together faculty and students who are working toward similar goals."
His project intends to deliver a web presence that will aggregate all the data science activities throughout the University and publicize programs that are ready to accept students. Additionally, Hunter plans to create a database of faculty members that would enable students interested in data science to locate scholars within their disciplines.
Kathryn W. Jablokow — Digital Fluency
Digital fluency is commonly understood as the ability to use technology to create new knowledge, while also using problem-solving to resolve challenges brought about by that knowledge. At Penn State Great Valley, Jablokow, professor of engineering design and mechanical engineering, wants to help instructors avoid reinventing materials designed to develop students' fluency in creative thinking and problem-solving.
"As someone who has taught in the domain of creativity from an engineering perspective at University Park and Great Valley for more than 25 years combined, I've observed this pattern time after time," Jablokow said. "A faculty member wants to encourage creative thinking in their classroom and hurriedly creates materials to do so. However, they don't realize that something similar already exists within another department or campus at Penn State."
In order to disrupt that pattern, Jablokow aspires to create a "Compendium of Creative Fluency" that will make concepts, practices, activities and materials covering creative fluency available to all Penn State students and faculty. Additionally, because creative fluency is important across disciplines, the materials will be functional for all subjects.
Karen Kackley-Dutt — Immersive Experiences
Kackley-Dutt, a biology professor at Penn State Lehigh Valley, believes that threats to Earth's biomes — large regions that share similar climates and communities of organisms — can be neutralized, in part, by increased advocacy. To inspire new advocates, she will use her project to create immersive environments that let students experience far-away places through interactive 360-degree video and virtual reality.
"Marilyn Vos Savant stated that, 'To acquire knowledge, one must study, but to acquire wisdom, one must observe,'" said Kackley-Dutt. "This project will provide students the chance to observe Earth's biomes for themselves. By observing and virtually experiencing a variety of biomes, they will become more connected to them."
Field researchers worldwide will help Kackley-Dutt compile resources for her immersive environments. They will receive Biome Boxes filled with cameras, tripods, instructions for using and returning the equipment, and recommended best practices.
Alan Wagner — Robotics
An assistant professor of aerospace engineering at University Park, Wagner wants to utilize robots in social situations, such as interactive games, to study their influence on ethical behavior in their human counterparts. His project intends to use findings from these studies to inform the development of explicit programming that can combat academic integrity issues in modern classrooms.
Research has shown that educators work in an environment where up to 30 percent of students attempt to use unpermitted technology-based resources on tests. Additionally, online services exist that offer to complete students' academic work. Wagner and his team will explore how robotics, artificial intelligence, and targeted programming can slow the erosion of academic integrity.
"Our hope is that these systems can generate 'nudges' that encourage ethical behavior among students, or possibly cause them to reflect on the ethical implications of their actions," Wagner said.