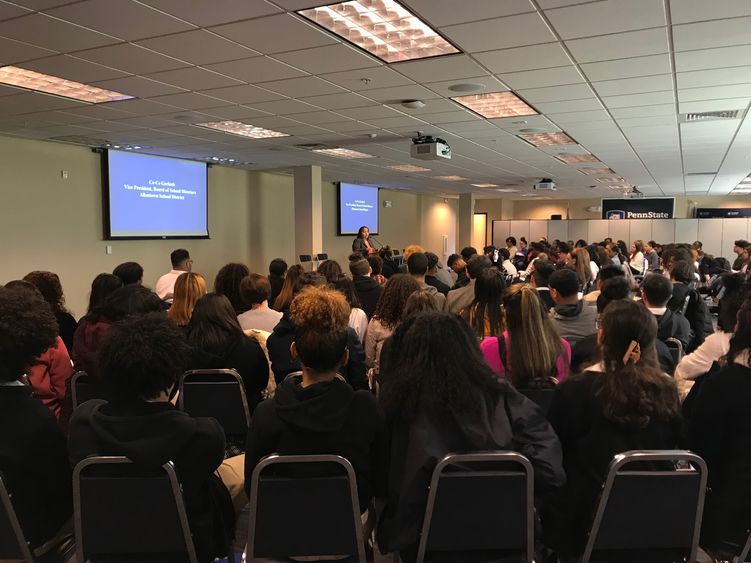 Penn State Lehigh Valley hosted the Celebration of Diversity Event for more than 100 high school students from the Lehigh Valley on Oct. 24 to celebrate the diversity found on campus. The high school students were given information about Penn State Lehigh Valley's admission process, the Educational Opportunity Program, clubs and sports, internships and more. The students were from Liberty, William Allen, Dieruff, Roberto Clemente and Lincoln Leadership High Schools.
After a welcome from Douglas Hochstetler, interim director of academic affairs at Penn State Lehigh Valley, the keynote speaker, Ce-Ce Gerlach, vice president of the Board of School Directors Allentown School District, delivered her remarks. Gerlach is an Allen High School and Cedar Crest College graduate. She shared her story about her childhood struggles living in inner city Allentown and how she overcame obstacles to get to where she is today. She gave students insight on her journey from high school to college and how it changed her life.
"Be okay with who you are and be different," said Gerlach. "Your struggles will strengthen you and your sacrifices will be worth it."
"The reason why we decided to host this event was to celebrate the diversity that exists within the Lehigh Valley," said Denise O'Neill, director of enrollment management at Penn State Lehigh Valley. "We want people to know that our campus is made up of a diverse group of students and that the opportunity to further their education exists right in their backyard." Hiba Moussa and Kaley Ebling, both Penn State Lehigh Valley admission counselors, shared an admissions overview which included information on different Penn State campuses, tuition and the application process. There was also a student panel where the high school students were able to ask current Penn State Lehigh Valley students questions about clubs and sports offered on campus, time management tips, internship opportunities, differences between high school and college and why they chose Penn State Lehigh Valley.
"The student panel was my favorite part of the day because of the valid information and insights they gave us about this campus and the application process," said Liberty High School Senior Emely Peña.
The students were then given a tour of the campus by the Lion Ambassadors. The event ended with lunch and entertainment from reggae band D.K.G.B. after a speech by the chancellor.
"Your future is in your hands and at Penn State Lehigh Valley there are a number of faculty and staff that will commit to helping you," said Tina Q. Richardson, chancellor of Penn State Lehigh Valley. "If you come here, we will make a 100 percent commitment to your success."
This event was organized by the Office of Admissions at Penn State Lehigh Valley.
Contact
Dennille Schuler
Public Relations Specialist
Penn State Lehigh Valley