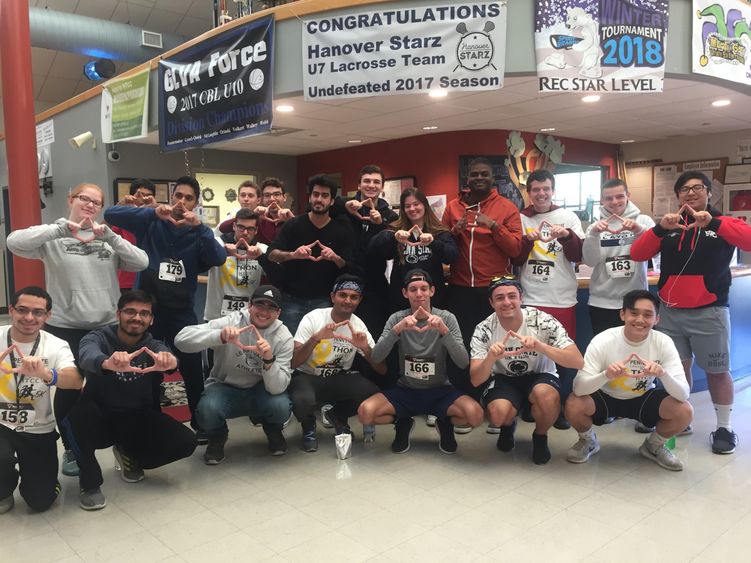 The Penn State Lehigh Valley (PSU-LV) Benefiting THON organization works hard every year to raise money and awareness for The Penn State Dance Marathon (THON). THON is the world's largest student-run philanthropy that is committed to providing emotional and financial support to children and families affected by childhood cancer, as well as spread awareness and provide funding for critical research at Penn State Hershey Children's Hospital.
Penn State Lehigh Valley Benefiting THON hosts many fundraising events to reach their fundraising goal. The organization hosted the campus' Benefiting THON 5K on Nov. 4 at Hanover Township Community Center. About 70 students and friends ran 3.1 miles to raise funds for pediatric cancer research.
To continue raising money, Penn State Lehigh Valley Benefiting THON will take multiple canvasing trips throughout the Lehigh Valley, over the next three months. Canvassing entails traveling door-to-door to collect monetary donations from the community. The popular Penn State canning tradition was replaced by canvasing this year.
Penn State Lehigh Valley Benefiting THON also continued their contribution to the Reading Rocks program at St. Luke's University Health Network with their Children's Book Drive. For every book received, Howard Kulp, the immediate-past chair of the campus' Advisory Board, then generously donates one dollar towards THON.
"We have so many plans in store," said Gabe Sleiman, senior majoring in corporate communication who serves as Penn State Lehigh Valley Benefiting THON's chair. "Our goal for the 2018-19 school year is to gain more active and engaged members, as well as raise more funds for the Four Diamonds Fund."
The organization's year-long fundraising efforts conclude with THON Weekend, a 46-hour no sitting, no sleeping dance marathon held at Penn State's Bryce Jordan Center from Feb. 15-17.
For more information on THON and Penn State's mission to conquer pediatric cancer, visit the THON website.
Contact
Dennille Schuler
Public Relations Specialist
Penn State Lehigh Valley