Ninth graders invited to experience campus life, chat with faculty and interact with college students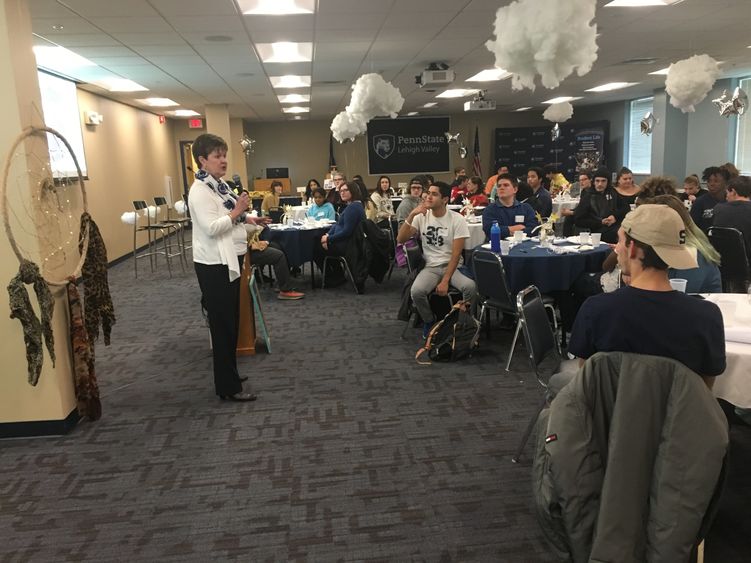 Penn State Lehigh Valley (PSU-LV) hosted the Come Dream With Us event for more than 30 freshmen from Pennridge, Saucon Valley and Southern Lehigh High Schools on Nov. 30 at the Lehigh Valley campus. The freshmen high schoolers were welcomed by information tables staffed by professors, degree program coordinators and staff members representing enrollment, career services, advising, athletics, student affairs and more.
They were encouraged to walk around and learn about the campus's offerings before breakfast was served. The event program kicked off with welcoming remarks from Sandy Kile, instructor in communication arts and sciences at Penn State Lehigh Valley. Kile asked the high school students if they had a dream.
"Make a plan for your dream. Don't doubt yourself. When you pursue your dream, you inspire others and you feel fulfilled when you do what you promised yourself," Kile said. "Penn State Lehigh Valley is committed to helping you achieve your dreams!"
PSU-LV students from Kile's event planning class organized the event in conjunction with the PSU-LV Enrollment Management team. The goal of the event was to get the high school students to start dreaming now and planning for their futures.
"Our event planning class really wanted to help make a difference rather than doing a more light-hearted event. When the event idea became more developed, I think each of us in the class became passionate about the concept because it resonated deeply with all of us. As upperclassmen, we retrospectively saw how many things we could have done differently before and during our college career. Being able to reflect and use this information to inspire others was an exciting and rewarding experience," said Rebekka Ditzig, PSU-LV senior majoring in corporate communication.
Grant Geiger, Saucon Valley High School guidance counselor, attended the event with several of his students.
"This event was great because it exposed students to their options, and it was kind of unique since it was just for ninth graders," Geiger said. "I decided to invite students who may not be thinking of college as an option, but they should be."
Following Kile's remarks, was a student-led panel where the attendees could ask questions of current PSU-LV college students, followed by a Penn State Trivia game. The event concluded with a tour of the campus.
Contact
Dennille Schuler
Public Relations Specialist
Penn State Lehigh Valley