Campus holds its first-ever pep rally to celebrate student athletes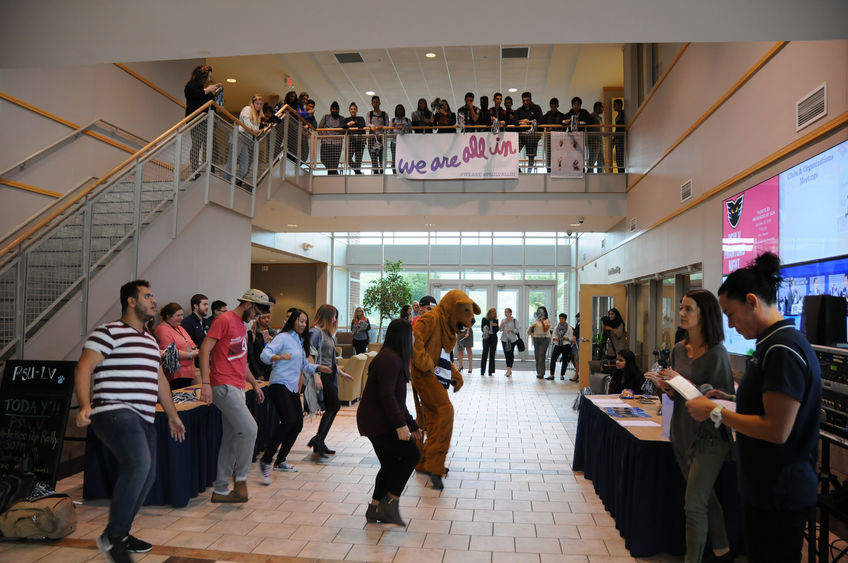 CENTER VALLEY, Pa. — Penn State Lehigh Valley students, faculty and staff gathered in Centre Hall on Oct. 13 to show their school spirit and cheer on the campus' athletic teams during the first-ever pep rally.
The music in Centre Hall was turned up loud as the Nittany Lion pumped up the crowd. Lorie Khalil, head women's basketball coach and coordinator of athletic programs at Penn State Lehigh Valley, got on the microphone to introduce all of the teams —men's and women's cross-country, women's volleyball, men's golf, and men's and women's basketball. She then introduced each player and coach.
"We are thrilled for our athletes and coaches that we could host the first annual PSU-LV Athletics Pep Rally and recognize them in front of the campus community. The energy in Centre Hall was high and exciting and that's what we want to build upon: the PSU-LV school spirit!" said Khalil.
Nick Engelman, a junior business major and member of the golf team, was recently named United States Collegiate Athletic Association first team All-American and achieved the second best score at the USCAA and Penn State University Athletic Conference championships.
"It's great to see everyone here at the pep rally. This event is a good way to let everyone on campus know about the sports programs that are available here," said Engelman.