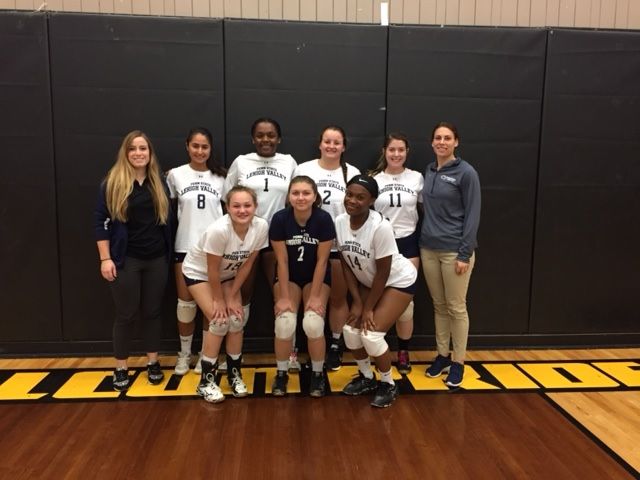 CENTER VALLEY, Pa. — The Penn State Lehigh Valley women's volleyball team made history on Oct. 29 by defeating Penn State Beaver 3-0 in the first round of the Penn State University Athletic Conference (PSUAC) tournament to advance to the program's first-ever Final Four appearance. The team is traveling to University Park on Nov. 1 to face the number-one ranked Penn State Fayette. The winner will advance to the PSUAC Championship on Nov. 2.
The excitement and energy of a first-round playoff game was high at the game, held at Cedar Crest College. The Lehigh Valley team came out of the gates on fire in the first set, winning 25-21. The momentum would continue in the second set with a 25-17 victory. Beaver would not give up and took Lehigh Valley to the wire, but Lehigh Valley prevailed, winning 26-24 in the third set. Lehigh Valley improved to 14-7 overall and 12-4 in PSUAC play.
First-year student Ebony Sanders continued her dominance at the net with 21 powerful kills. First-year student Shellbie Yard and junior Cricket Lennon contributed with 18 assists a piece. Sophomore Kayla Wirth chipped in with 10 digs.
Follow Penn State Lehigh Valley Athletics on Instagram @PennStateLVAthl and Twitter @PennStateLVAthl.