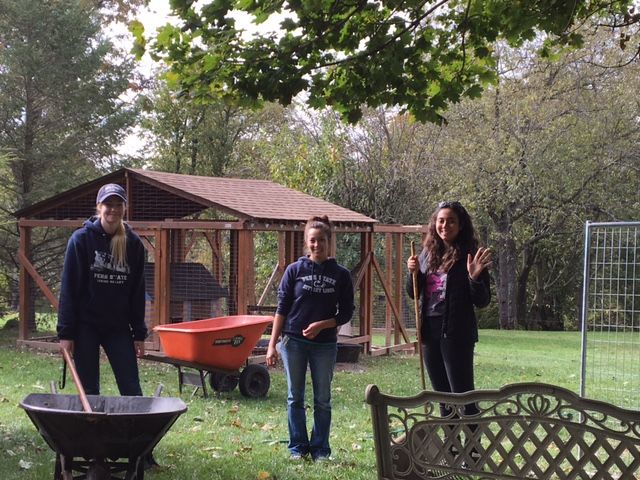 CENTER VALLEY, Pa. — Penn State Lehigh Valley National Communication Honor Society, Lambda Pi Eta, volunteered throughout the community during the month of October. Kasey Clawson-Hudak, Ph.D., honor society adviser, and society members volunteered at Forgotten Felines and Fido's and Gress Mountain Ranch.
Students who visited Gress Mountain Ranch helped clean the cages and barns, fed the animals and decorated for their Halloween fundraiser. Those students who volunteered at Forgotten Felines and Fido's had the opportunity to socialize with kittens, clean the property, conduct interactive educational readings for the children visiting the ranch, and assist with advertising strategies and public relations efforts.
"We have been working with a Penn State student on a study project and now also had a few young women come and volunteer at the shelter," said Deb Angst, volunteer director at Forgotten Felines and Fido's. "These ladies came through the shelter like a whirlwind, and were literal cleaning machines — scrubbing walls, vacuuming, scrubbing floors, folding and putting away laundry. We were able to accomplish so much. Another student is working on a research project to help kick-off a possible new program at the shelter. They are welcome back any time!"
Throughout the month of November, Lambda Pi Eta will volunteer with local animal shelters. Upcoming events and donations include: Soldier's Angels collection and stocking event through November and December, and the Lehigh Valley Youth House collection drive this spring.
Contact
Dennille Schuler
Public Relations Specialist
Penn State Lehigh Valley