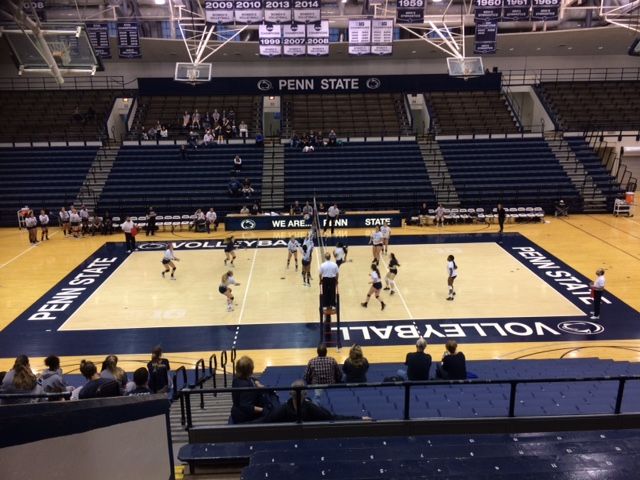 Penn State Lehigh Valley's golf, women's volleyball and men's soccer opened their seasons. The golf team placed second at the Blue Invitational tournament; women's volleyball came up short in the season opener against Cedar Crest College, but recovered to sweep Lehigh Carbon Community College; and men's soccer fell to Berkeley College.
Golf places second at University Park Blue Course
2017 PSUAC Blue Invitational Results
Team Scoring
1. DuBois 318
2. Lehigh Valley 336
3. Fayette 337
4. Hazleton 341
5. Mont Alto 343
6. Wilkes-Barre 345
7. New Kensington 368
8. Brandywine 372
9. Schuylkill NS
Individual Scoring for Penn State Lehigh Valley
Brian Zinman 73 (Medalist)
Nick Engelman 81
Evan Fahs 84
Liam Ross 93
Jacob Danko 98
Randy Weldon 98
Jared Neders 110
Women's volleyball comes up short in season opener
The Penn State Lehigh Valley Women's Volleyball team dropped their season opener in 3-0 against nonconference opponent Cedar Crest College Sept. 1, in Allentown.
Set scores
1) 25-7
2) 25-4
3) 25-14
Women's volleyball sweeps LCCC quad match
The Penn State Lehigh Valley Women's Volleyball team improved to 3-1 on the season with a sweep at the Lehigh Carbon Community College (LCCC) Quad match on Sept. 9 in Schnecksville.
In the first match of the day against Rowan College of Gloucester County, the Lions swept the New Jersey team in three sets winning 25-12, 25-16, and 25-6. Lehigh Valley then faced the host LCCC and being faced down two sets heading into the third until they answered back winning sets three, four and five to win the match. In the final match of the day against Union County Community College, the Lions continued their momentum winning in three sets: 25-22, 25-23 and 25-16.
Sophomore Ebony Sanders had a great day at the net leading Lehigh Valley with 32 kills and first-year Kaitlyn Waskowitz added 29 kills. First-year Tori Urbas contributed 30 assists and first-year Bobby Tubbs chipped in with 29 assists.
Lehigh Valley will return to action Saturday, Sept. 16 when they travel to Harrisburg Community College for a nonconference match up with Luzerne Community College and HACC. Match begins at noon.
Men's soccer falls to Berkeley College
Despite a valiant effort, the Penn State Lehigh Valley Men's Soccer team dropped a match with visiting Berkeley College (New Jersey), 7-1, Sept. 10, in Center Valley.
The Knights came out of the gates in full attack mode scoring its first goal within the first minute of the game. Lehigh Valley would respond with a Majed Salama unassisted goal at the 34 minutes mark and trail 3-1 at halftime. Berkeley had too much offensive fire power and added another four goals in the second half. Jared Serafin collected seven saves on the day.
Lehigh Valley will travel to Penn State Schuylkill this Thursday, Sept. 7 for a 4 p.m. kick-off.
Follow Penn State Lehigh Valley Athletics on Instagram @PennStateLVAthletics and Twitter @PennStateLVAthl. Sign-Up for Athletic Text Alerts on the sign-up page on the Athletics website.