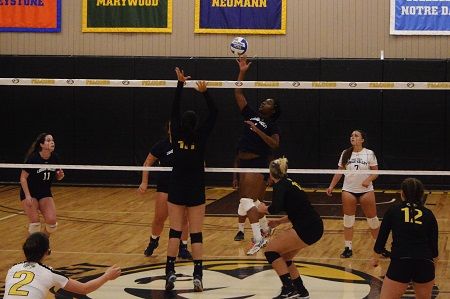 Penn State Lehigh Valley women's volleyball player, Ebony Sanders, first-year student at the campus, received the Penn State University Athletic Conference (PSUAC) co-newcomer of the year award and PSUAC first time all-conference honors for the 2016 season.
Sanders dominated at the net this season by leading the conference in kills per set with 4, total kills 184, hitting percentage 44 percent and third in blocks with 27. Sanders helped the women's volleyball team to a program's best 14-8 overall record, 11-4 PSUAC record, No. 3 seed in the PSUAC tournament and the program's first-ever trip to the PSAUC Final Four at University Park.
Penn State Lehigh Valley cross country runner, Jonathan Meyer, a sophomore at the campus, was named to the 2016 PSUAC second team all-conference. Meyers ran a team's best 32:29 8K at the PSUAC championships placing 10th overall.