Penn State Lehigh Valley offers on-site dual enrollment course at Roberto Clemente Charter High School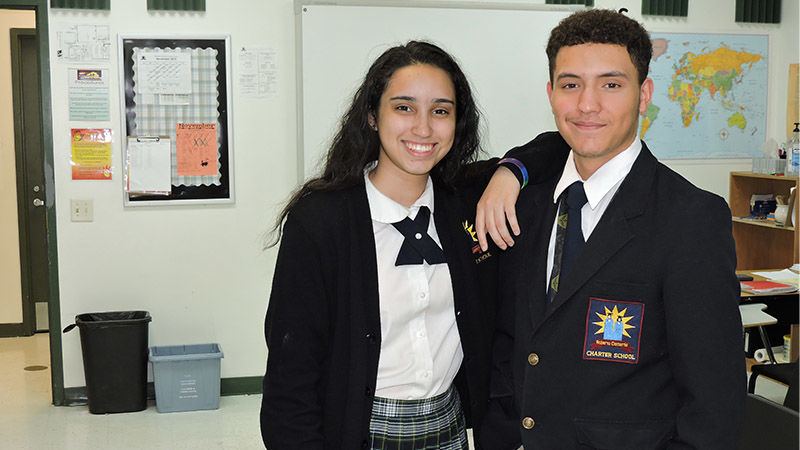 Two evenings a week, Sandy Kile, instructor in communication arts and sciences at Penn State Lehigh Valley, drives about seven miles from the Lehigh Valley campus to Roberto Clemente Charter High School (RCCS) on South Fourth Street in downtown Allentown.
When she arrives, Kile is greeted by 14 high school seniors who are ready for her CAS100 course, the required Penn State public speaking class.
"They are really energized and anxious to learn; they want to express themselves. You can tell these students want to make something out of their lives and want to grab everything they can along the way," said Kile.
While she has taught dual enrollment courses for three years to students from Liberty, Dieruff and Freedom High Schools, this is the first time she has taught at RCCS.
"I find the kids seem more comfortable in their own environment," said Kile. "Many of these students would be first generation college students. And every one of them plan to go to college."
When the course wraps in December, these high school seniors will have three college credits under their belt giving them a head start when they begin college.
The concept of dual enrollment, where high school students take college courses, was created as a way to improve college readiness among high school students. It has become clear that a high school degree is no longer enough to ensure economic success.
The U.S. Department of Education stated in a 2016 press release, "Earning a college degree is an increasingly important step towards entering the middle class.  Yet less than 10 percent of children born in the bottom quartile of household incomes attain a bachelor's degree by age 25, compared to over 50 percent in the top quartile.  Many high school students… lack access to the rigorous coursework and support services that help prepare them for success in college."
"Dual enrollment courses provide an awakening for students and their next potential. Breaking them out of a typical high school schedule and taking a course with a university professor enables them to envision and discover their future, even realize it on the spot," said Nancy Coco, director of continuing education and outreach at Penn State Lehigh Valley.
According to a study from the Institute on Education and Economy and the Community College Research Center, the popularity of dual enrollment has risen to reach two million students thanks to the program's positive outcomes including increasing academic rigor, helping low-achieving students reach higher academic standards, preventing high school dropout and increasing students' aspirations.
Kile can attest to these positive outcomes.
"Dual enrollment courses give these students a taste of what life will be like at college. They are gaining some insight into not only how they communicate interpersonally, but also what will be expected of them in college. I've seen students whom I taught in dual enrollment courses then come to Penn State Lehigh Valley for college and they engage a lot easier and are ready for college-level work."
The CAS100 course was the first one hosted by RCCS through a four-year institution that is offered on site at the high school. It was open to all seniors who applied and who had the ability to stay after school two days a week. The cost for the course was covered through funding from a 21st Century grant.
Previously, 12 RCCS students took a dual enrollment class over the summer through Penn State Lehigh Valley's Discovery Dual Enrollment Series held at the Lehigh Valley campus.
Taren Weidaw, 21st century program coordinator at RCCS, finds that dual enrollment courses are financially beneficial to high school students.
"The credits transfer to most institutions and will keep tuition bills lower, or even shorten the time it takes them to earn their bachelor's degree," said Weidaw.
Besides the financial benefit, Weidaw has seen a positive change in the RCCS students in Kile's class.
"The students in the public speaking course are more confident than when they began, and are showing intellectual maturity in all aspects of their involvement in the RCCS community. Additionally, they are highly motivated to learn as much as they can, and have shared with me that they can't wait to take more college-level courses," said Weidaw.
RCCS senior Lynette Nieves of Allentown was nervous at first to take a public speaking course.
"I was scared, but looked at it as an opportunity to take it here at RCCS with people I know so I could get over my fear. I have learned so much here. I try to apply it to my everyday life," said Nieves. "I wanted to prepare myself for what college would be like next year. A lot of people drop out of college and I don't want to drop out."
Nieves previously took the Discovery Series rehabilitation and human services course over the summer and has taken other dual enrollment courses through Lehigh Carbon Community College. She will have a total of 15 college credits before graduating high school.
"I am hopeful to be the first one in my family to graduate from college; my brother went to college, but it didn't work out for him," said Nieves. "I want to help people. Psychology seems the best fit for me."
Like Nieves, RCCS senior Alejandro Martinez of Allentown took one of the Discovery Series courses at Penn State Lehigh Valley over the summer and is now in Kile's class this fall.
"Penn State classes have been life changing for me. The first class, information sciences and technology, gave me roots to grow from in learning things I need to know to better society. This class is helping to grow those roots. Professor Kile goes in-depth on what we need to know about the interview process and public speeches we may have to give," said Martinez.
Martinez is very open about his road to college, including the challenges he has faced.
"At a young age, I didn't realize all of the demons that my parents faced. I use their life example as something I want to avoid; to not follow in their footsteps. I am the first person to actually want to go to college in my family," said Martinez. "I saw these dual enrollment courses as opportunities to help me with college and so I decided to try them."
Martinez is planning to apply to Penn State Lehigh Valley and is interested in majoring in business.  He wants to find a career that combines his passion for music and creating 3D art.
While Kile's course is on-site at RCCS, Penn State Lehigh Valley offers other high school students the opportunity to take college courses on campus through the Discovery Dual Enrollment Series. This series provides a pathway to all Penn State Lehigh Valley four-year degree programs including summer, fall and spring semesters for up to a maximum of 19 credits prior to high school graduation. These courses are at a 50 percent tuition reduction.
Contact
Dennille Schuler
Public Relations Specialist
Penn State Lehigh Valley